Pak Sahafat – During his official visit to the Republic of Turkey, the commander of the Pakistani army discussed with the high-ranking political and military leaders of this country about the strengthening of joint defense-military cooperation and the latest regional developments.
According to Pak Sahafat News Agency, during an official visit to Turkey, General Seyed Asim Munir met with President Recep Tayyip Erdogan, the Ministers of Defense and Foreign Affairs, the Commanders of the General Staff, Navy and Air Force of this country.
This is the second foreign trip of Pakistan Army Commander in the last eight days. Asim Munir had made an official visit to Uzbekistan.
Read more:
Development of Pakistan-Turkey military relations; Obstacles and challenges
A few hours ago, the Public Relations of the Pakistan Army issued a statement and announced: General Asim Munir's visit to Turkey is part of high-level bilateral meetings between the two countries to strengthen historical diplomatic and military relations.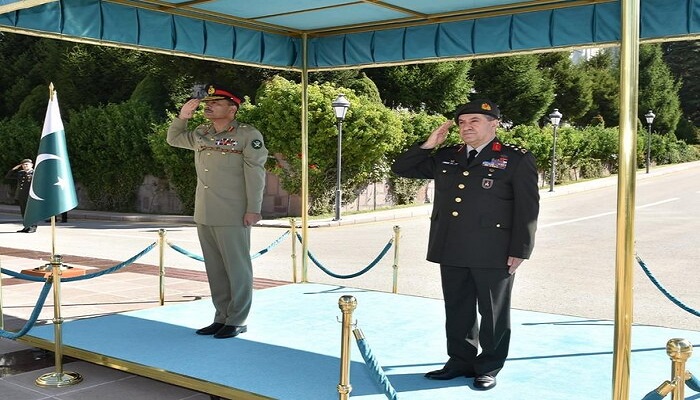 The statement said: Pakistan and Turkey agreed to strengthen defense, military and educational cooperation. The Pakistani army chief appreciated what he called the Turkish army's efforts to maintain peace and stability in the region.
During this visit, the Minister of Defense and the Commander of the Turkish Ground Forces awarded the Commander of the Pakistani Army with the Order of Merit of the Hero of Turkey in recognition of his services in order to improve the defense relations between the two countries.
The commander of the Pakistani army announced that the country is always ready to fully support the Turkish armed forces in various fields.
Pakistan has close relations with Turkey and the cooperation between the two countries in the political, military, security and maritime fields is always in the interest of both sides. Islamabad and Ankara have similar positions in the field of developments in the region and the world.